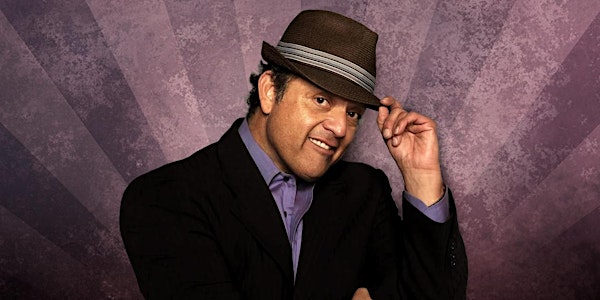 Paul Rodriguez Comedy Show!
Part of the Oceanview Pavilion collection
Paul Rodriguez Comedy Show. Guest comedian: Marc Skippy Price from NBC's classic Family Ties
When and where
Date and time
Sat, November 19, 2022, 7:30 PM – 9:30 PM PST
Location
Oceanview Pavilion Event Venue 575 East Surfside Drive Port Hueneme, CA 93041 United States
Refund Policy
Contact the organizer to request a refund.
Eventbrite's fee is nonrefundable.
About this event
Paul Rodriguez Comedy Show
As an actor and comedian Paul Rodriguez's multi-faceted career includes starring roles and featured appearances in over 45 films and countless television series and comedy specials–
Guest comedian: Marc Skippy Price from NBC's classic Family Ties "Wickedly Funny"!, The Boston Globe.
Host: Mel Garcia
November, 19th 2022 / 7:30pm – 9:30pm
$25 Advance
$30 at the Door
Doors Open at 7:00pm
………………………..
Under 18 Must Be Accompanied by a Paying Adult.
………………………..
Paul Rodriguez
Longtime comedian Paul Rodriguez has been making audiences laugh all over the world (in Spanish and English) for nearly three decades with his unique brand of humor that is a perfect blend of his Latin heritage, the American dream and his undeniable universal appeal. As an actor and comedian, Paul Rodriguez's multi-faceted career includes starring roles and featured appearances in over 45 films and countless television series and comedy specials.
Voted one of the most influential Hispanics in America and awarded the Ruben Salazar Award by The National Council of La Raza (NCLR), the largest national Hispanic civil rights and advocacy organization in the United States, Rodriguez has remained a constant force in his community and the world of comedy throughout his career.
Rodriguez's film credits include "Without Men" with Eva Longoria and Christian Slater; "Cats & Dogs: The Revenge of Kitty Galore;" "The Deported," "I'm Not Like That No More" with comedian Felipe Esparza (2010 "Last Comic Standing" winner), Disney's blockbuster hit "Beverly Hills Chihuahua," "The World's Fastest Indian," "A Cinderella Story," "How to Get the Man's Foot Outta Your Ass," "Ali," "Tortilla Soup," "Crocodile Dundee in LA," "Rat Race," "Bloodwork," "Chasing Papi" and "D.C. Cab," among others.
The multifaceted entertainer recently wrote and performed his first-ever one-man show "Just for the Record," which is now available on DVD. In this tell-all theatrical piece, Rodriguez takes audiences on a journey through his remarkable life, including his childhood in Mexico, to his family's move to Compton, California (where he grew up), his illustrious career and the significant relationships and moments that helped shape his life along the way.
Rodriguez has hosted several hit series, including the entertainment talk show "El Show de Paul Rodriguez," an entertainment talk show for Univision which reached over 50 markets throughout the United States and an international audience in over 17 countries in Central and South America. His additional hosting credits include the The NCLR ALMA Awards, The Tejano Music Awards, Showtime's Latino Laugh Festival and his own television specials "Back to School" and "Behind Bars." He recently hosted "Mis Videos Locos with Paul Rodriguez" on Tr3s: MTV, Música y Más.
As an accomplished writer, director and producer for television, motion pictures and feature shows, Rodriguez has several hit projects to his credit including the comedy concert film "The Original Latin Kings of Comedy," which he executive produced and starred in along with Cheech Marin, George Lopez and Carlos Mencia; the feature film "A Million to Juan," which he also wrote, directed and starred in; six comedy specials for HBO including "Loco Slam, " "Live in San Quentin" and "Idiots and Armadillos." As executive producer, he recently struck comedy again with his Comedy Central stand-up concert DVD, "Comedy Rehab." In addition to his many hit comedy specials in English, Rodriguez has the distinguished credit of performing the first-ever one-hour standup comedy special in Spanish, "Dime Con Quien Andas," for Telemundo.
………………………..
Marc Price
Loved by millions as Skippy from the hugely popular 80's sitcom Family Ties starring Michael J Fox
As a stand up comedian Marc has opened for Jay Leno and Jerry Seinfeld.
As an actor he's starred in movies such as Trick Or Treat, with Ozzy Osborne and Gene Simmons as well as Killer Tomatoes Eat France.
As a host he helmed late night talk shows (The Midnight Hour- CBS) and TV game shows (Win, Lose Or Draw- Disney Channel).
In the 2000's he was successful behind the cameras writing and producing for E! TBS, Disney Channel, Animal Planet, GSN, Showtime and more.
While 2020 shut down the live touring business, Marc kept busy hosting his own 80s radio show in Daytona Beach and currently has two new tv projects in development.
Heading back out on the road, check out his stand up comedy tour to find out why the Los Angeles Times calls him "refreshingly bright" and the Boston Globe says he's "wickedly funny."
………………………..
Mel Garcia
Famed radio producer, comedy writer, stand-up has written or opened for such comedians as Richard Lewis, Paul Rodriguez, Patrick Warburton, Carlos Mencia, Tommy Davidson, Pablo Francisco and Willie Barcena.
Mel also served as comedic sidekick and on-air producer for the long-running Frazer Smith Show in Los Angeles on the iconic radio station KLOS.
---
Get Citizensjournal.us Headlines FREE SUBSCRIPTION. Keep us publishing – DONATE