Huntington Beach Protest Shows Thousands Weary of Newsom's Measures
BY JAMIE JOSEPH
HUNTINGTON BEACH, Calif.—Protesters across Southern California have demonstrated a growing weariness with Gov. Gavin Newsom's restrictive measures, as the state grapples to balance reopening with safety.
Recent protests indicate that a growing number of citizens believe that the damage caused by Newsom's restrictions to commerce has become worse than the problems that might arise due to the continuing spread of COVID-19, if measures were to be relaxed.
Many people who gathered at a May 1 protest in Huntington Beach told The Epoch Times that they feel it's time for Newsom to reopen Orange County businesses and beaches now, and that statistics regarding the disease support their belief.
"Newsom: your cure is worse than the disease," said a sign held by one protester.
Nearly 3,000 protesters flocked to Huntington Beach to combat Gov. Gavin Newsom's stay-at-home orders, many carrying signs and waving flags. They were joined by thousands of additional protesters in Los Angeles, Sacramento, Ventura, and San Diego.
The statewide demonstrations were organized by the activist group "We Have Rights," which was born out of frustration toward Newsom's mandatory COVID-19 regulations. The group is "dedicated to the restoration and protection of the rights and freedoms provided under The Constitution for All Americans," according to its website.
Newsom issued the initial stay-at-home order on March 19, requiring all Californians to remain in their residences unless transacting essential business. The order was made "to preserve the public health and safety," in the face of the burgeoning COVID-19 pandemic.
But as the state's unemployment rate skyrockets—over 3 million Californians filed for unemployment benefits following the order in the first month alone—the economic ripple effect has resulted in a growing number of people who feel it's time for the state to loosen its restrictions and reopen its businesses.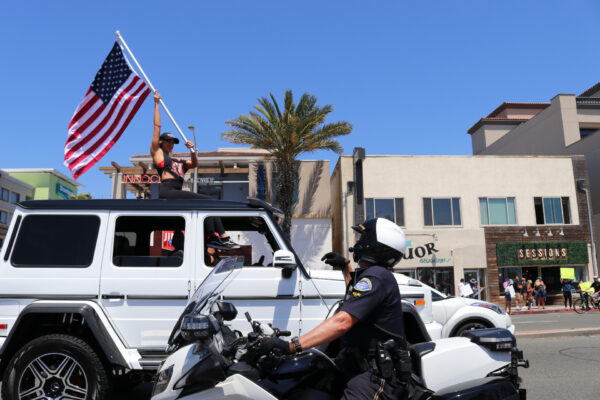 A motorcycle policeman tells a woman with a flag to go back inside her vehicle at a protest gathering in Huntington Beach, Calif., on May 1, 2020. (Jamie Joseph/The Epoch Times)
A Day at the Beach
Shortly after noon on May 1, a flock of protesters congregated near the Huntington Beach pier. They gathered along sidewalks, while dozens of law enforcement officers—including SWAT personnel—patrolled up and down the Pacific Coast Highway (PCH). Some officers rode on horses, others on motorcycles.
At the same time, cars embellished with American flags drove along the PCH, honking harmoniously in support of the protesters. A number of "Trump 2020" flags could be seen flying above the crowd as well.
Social distancing measures seemed to be ignored as gathering protesters—the majority not wearing masks—created gridlock on the streets, beginning at Beach Boulevard and continuing up the PCH.
Many signs held by protesters reflected their desire to reopen California immediately, including messages that read "Newsom is Non-Essential," "Only Sheep Don't Question Tyranny," and "Let the Healthy People be Free."
The protest took place just one day after Newsom ordered a temporary "hard closure" of all Orange County beaches. The order was given in response to the weekend of April 25-26, when an estimated 80,000 people flocked to Orange County beaches, and photos of frolicking beachgoers on Newport Beach rocked the internet.
One protester told The Epoch Times that "the best place to be is outdoors," and argued that Newsom is "clamping down on our freedoms."
"It's just as a punitive measure, it has nothing to do with science," said the protester. "People are on the verge of bankruptcy. If we don't reopen soon, 70 percent of these businesses will be shuttered."
The protester, who requested to be referred to as just a "concerned citizen," said this was the first protest he'd ever attended.
Another participant, a Huntington Beach resident named Anne, told The Epoch Times that "the facts shouldn't be ignored."
"We need to get out, and it's time to reopen the country," she said. "The businesses should've opened yesterday."
"I think that if we ever open up, then the same exact number of deaths will occur, unless there's some miracle of a cure of some kind," another Huntington Beach resident, Dave, told The Epoch Times.
"So all of these kind of measures are really for nothing. All they're doing is kicking the can down the road. All the same deaths are going to happen," he added.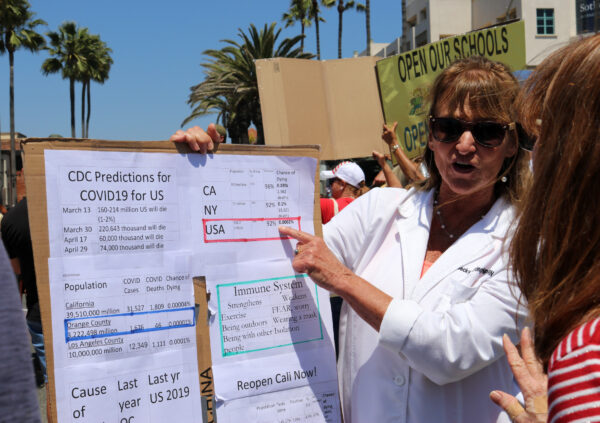 Retired nurse Becky Ettinger points to a chart of COVID-19 statistics in Huntington Beach, Calif., on May 1, 2020. (Jamie Joseph/The Epoch Times)
The Protesting Nurse
Among the protesters was Huntington Beach resident Becky Ettinger, a retired nurse of 46 years. She is currently a professor of nursing at Santa Ana College, and believes the COVID-19 data "doesn't support what we're doing in Orange County."
"Especially because we have 3 million people, and only 46 deaths," Ettinger told The Epoch Times. "To have people's businesses locked down, for people to be told to stay home—it's all wrong."
As of May 3, Orange County health officials had reported 52 deaths from COVID-19, and 2,743 confirmed cases.
Ettinger attended the protest with a cardboard sign showing Centers for Disease Control and Prevention (CDC) COVID-19 projections. She highlighted where she felt the predictions were incorrect.
"We don't do this for the flu every year, so we get the economy killed,"  she added.
Ettinger, a published author with multiple college degrees whose specialty is community health, believes isolation is having a detrimental effect on people's mental health, and their immune systems.
"The mental health issue now supersedes the numbers of this epidemic," Ettinger said. "We need to be outside, to build our immune systems, and get back to normal."
She added, "We don't want these people to continue losing their jobs … it leads to people dying. And I know that, because I've studied population health."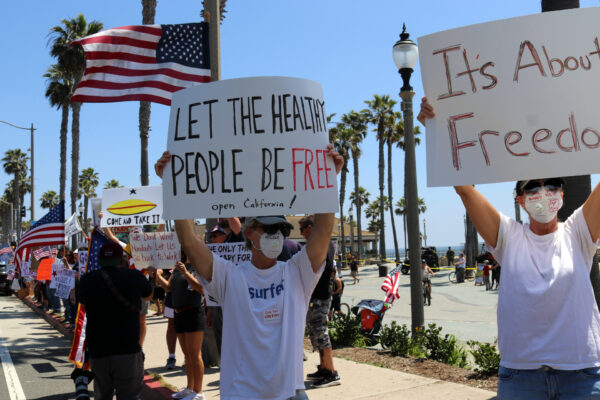 Protesters hold signs at a gathering in Huntington Beach, Calif., on May 1, 2020. (Jamie Joseph/The Epoch Times)
Newsom Closes the Beach
Orange County has the lowest per capita rate of COVID-19 cases in California, Huntington beach Mayor Lyn Semeta said in an April 30 press release.
She and other local Orange County officials were miffed at the governor's edict to close their beaches, and said they were not consulted prior to the decision. Huntington Beach, along with the city of Dana Point, filed an injunction to temporarily halt Newsom's action, but their request was denied in Superior Court.
Aware of the protest beforehand, Newsom suggested that participants adhere to recommended safety guidelines. He urged protesters to at least "wear a face covering, do justice to physical distancing."
"You don't want to catch this disease," the governor added.
Orange County Supervisor Michelle Steel, via email, told The Epoch Times, "I encourage all residents to comply with state orders and to practice proper social distancing while expressing their first amendment right to peaceably assemble."
Overall, the May 1 protest and the crowds remained peaceful, according to Huntington Beach Chief of Police Robert Handy. No arrests or citations were made.
"We're proud of the way our department handled it, our partners handled it, and we're also grateful to the crowd," Handy said during a press conference later that day. "It was peaceful, and they really obliged a lot of our requests."
Reopening Orange County
Newsom has been insistent that residents continue adhering to social-distancing requirements, saying in recent days that the state could begin lifting some restrictions in "weeks, not months," if people continue to stay at home. But he said that could change quickly if people get complacent.
On April 28, California Department of Public Health Director Dr. Sonia Angell, along with Newsom, outlined a four-stage roadmap to ending the state's stay-at-home orders and reopening businesses. The state had already entered phase one, she said, which deals with "safety and preparedness."
The next stage of the roadmap includes the opening of some lower risk workplaces, with safety adaptations and precautions. During this stage, the roadmap indicates that "counties may choose to relax stricter local orders at their own pace."
At a meeting on the same day, the Orange County Board of Supervisors unanimously approved a plan to reopen their businesses, and return them to a normal state of activity.
"These guidelines do not supersede any conflicting or more restrictive orders issued by local governments, the State of California, or the Federal Government," the document said.
"As we transition back to business as usual, we must do so in a manner that is conscious of the public health, but also addressing the needs of businesses and their employees who need to put food on the table," said Chairwoman Steel.
"When we talk about the business impact of COVID-19, we're not just talking about money, we're talking about people and their ability to provide for themselves and their families."
Orange County officials, along with a growing number of citizen protesters, are aiming to end Newsom's stay-at-home restrictions sooner rather than later.
Republished with Permission The Epoch Times    SUBSCRIBE
---
Get Citizensjournal.us Headlines free  SUBSCRIPTION. Keep us publishing – DONATE