#LetsGrowAGarden2020: FREE Soil Giveaway!
We are excited to introduce the LET'S GROW A GARDEN together initiative this week! The positive responses and personal gardening stories we received after our first newsletter inspired us to find a way to encourage more community members to plant a seed and get their hands a little dirty. Our goal is to help SEEAG's family of students start over 500 gardens in their homes this spring throughout Ventura County.
We are very proud to be working with Agromin, an Oxnard-based manufacturer of earth-friendly compost and soil products, who will be giving away 500 bags of potting soil to our #letsgrowagarden2020 community (see details below). Gardens can be grown outside in the ground, in a pot in your kitchen, hung from your porch in a recycled bottle, in an old wheelbarrow, or in about any container you can find – and we are here to help you along the way! Scroll to see our gardening tips and educational SEEAG-tivities below and on our website.  Please don't forget to share your photos with us on Facebook and Instagram using the hashtag #letsgrowagarden2020 and by tagging SEEAG. Stay tuned for photo contests and more community-supported giveaways. Make sure you find time to get outside and…
LET'S GROW A GARDEN TOGETHER VENTURA COUNTY!
We hope you enjoy newsletter #2. We can't wait to see your gardens' progress. 
Thank you and be well.
Mary and Team SEEAG                                                              
 
     
#LetsGrowAGarden2020
Join SEEAG in the Let's Grow a Garden together initiative! This spring SEEAG wants to help local students, friends, families, and neighbors start over 500 home gardens across Ventura County and beyond. Visit our website to read 5 simple steps to start a garden, download weekly worksheets and activities, and access educational resources.
Share your progress on Instagram and Facebook with the hashtag #letsgrowagarden2020 and subscribe to this newsletter to stay updated about weekly photo contests, fun at-home lessons, and new SEEAG-tivities. Together we can educate, inspire, and empower ourselves and those we love to reconnect to food by getting our hands a little dirty – let's grow a garden together! 
 
---
FREE Bagged Soil Giveaway! 
Agromin is an Oxnard-based manufacturer of earth-friendly compost products made from organic materials including food and yard waste collected from cities, landscapers, businesses, farms and community members.
Agromin is donating 500 bags of potting soil to
#letsgrowagarden2020 participants this week!
To receive your FREE bag of potting soil:
– Call Agromin at 805-485-9200 for availability and social distancing instructions
– Visit Agromin's Oxnard location, 201 Kinetic Drive, Oxnard, CA 93030
– Monday, 3/30/2020 through Friday, 4/3/2020
– 8:00 AM to 4:00 PM 
Limit one bag per child please. First come, first served, while supplies last. Hours for soil pickup are expanded as much as possible and will take place in the parking lot to avoid forming unnecessary crowds. Be compassionate towards those around you! 
Make sure to document the start of your gardening adventure by including #letsgrowagarden2020 with your post. Stay tuned next week for another community-supported giveaway! Thank you Agromin! 
FARM LAB AT HOME 
AGRICULTURAL SCIENCE AND GARDENING LESSONS AND ACTIVITIES
VOCABULARY WORDS:
Seed: the part of the plant that reproduces into another plant of the same kind
Root: the part of the plant that attaches to the ground, pulls up water & nutrients 
Stem: the main stock of a plant rising above the ground
Leaf: the flattened structure of a plant attached to the stem, responsible for photosynthesis 
Plant Nutrients: provide nourishment for growth and life, often obtained through the soil
Soil: The upper layer of earth where plants grow consisting of organic matter, clay, and rocks
---
PAINTING WITH SOIL 
     Create a masterpiece and learn about the types of soil in your neighborhood
1st Grade, 2nd Grade, 3rd Grade, 4th Grade
NGSS Standards covered: 2-PSI-1
If you have ever attended one of SEEAG's educational programs, you might be familiar with this phrase: Soil is Alive and Dirt is Dead! 
We want each of the kids we see at the farm to walk away with this sentiment because soil is an essential component to healthy farms and gardens. Both soil and dirt are made of particles of rock that vary in size, but soil has one important addition that makes it alive – organic matter! Organic matter is anything that was once living that is capable of breaking down or decaying. It might not be easy to determine whether you have soil or dead dirt in your backyard or neighborhood, so here is a fun way to figure it out.
Materials:
– Small handfuls of at least 2 different samples of dirt and/or soil (this can be taken from a
potted plant, your backyard, a nearby park, your garden, a hiking trail, etc.)
     – Cookie sheet
     – Tape
     – Paint brushes
     – Cups for mixing 
     – A cup of tap water 
     – Paper (Watercolor paper if possible, but not necessary)
Step 1: Tape your paper to a cookie sheet.
Step 2: Mix your mud! Add each sample of dirt or soil to its own cup and slowly mix with water. Take care to not add too much water. You're trying to create a mud-like substance. 
Step 3: Start painting! Keep samples separated from each other on the sheet of paper and use your observation skills to determine which sample is darker than the other. Darker mud tends to indicate healthier soil. This is most likely because it has a higher content of organic matter in it. Which type of soil do you have in your neighborhood?
If you need some living soil to grow some plants of your own, be sure to participate in the FREE soil giveaway courtesy of Agromin! 
---
1st Grade, 2nd Grade, 3rd Grade
NGSS Standards covered: 1-LSI-1, 2-LS2-1, 3-LS4-3, 3-LS4-4
What do seeds need to sprout and grow into healthy plants? In this experiment, you will learn whether light makes a difference in the early stages of a plant's life. Make sure to record your hypothesis before you start, and try to keep the conditions for both subjects (seeds) identical – minus the light! When the experiment is over, talk about all of the things a plant needs to be healthy. If you are starting your own garden, this is a great way to get the kids thinking about all of the resources and conditions (water, nutrients, light, climate, etc.) that need to be just right in order to grow food. 
"Do seeds need light to grow" at-home experiment 
Learn more about seed germination and when to start your seeds 
---
MORE SEEAG-TIVITIES
     Printable and Online Resources and Activities
"My American Farm" Free Online Games: American Farm Bureau Foundation for Agriculture
Soil and Seeds Vocabulary Word Search
VCCWI AT HOME
NUTRITION AND WELLNESS LESSONS AND ACTIVITIES 
VOCABULARY WORDS:
Fruit: The product of a tree or other plant that contains seeds and can be eaten as a food 
Vegetable: A plant or part of a plant used as food 
Grain: A small, hard, dry seed, with or without an attached hull or fruit layer, harvested for human or animal consumption
Processed Food: A food item that has been mechanically or chemically altered to change or preserve it
Raw Food: Food items that are unprocessed and unrefined and are free from additives and artificial substances 
---
FNID THE HEALTHY HERO IN YOU!
     Introduction to nutrition and wellness lessons
There are over 2,000 farms in Ventura County, and together they grow more than 200 kinds of fruits and vegetables. Living on the Central Coast, we have a unique access to a diversity of produce year-round. One way that we can support our local farmers and help our bodies stay healthy is to eat a rainbow of fresh fruits and veggies every day. Below are several nutrition and food related activities – as well as local resources for produce.
Click this link to visit SEEAG's website and download the Farm Fresh Passport for free!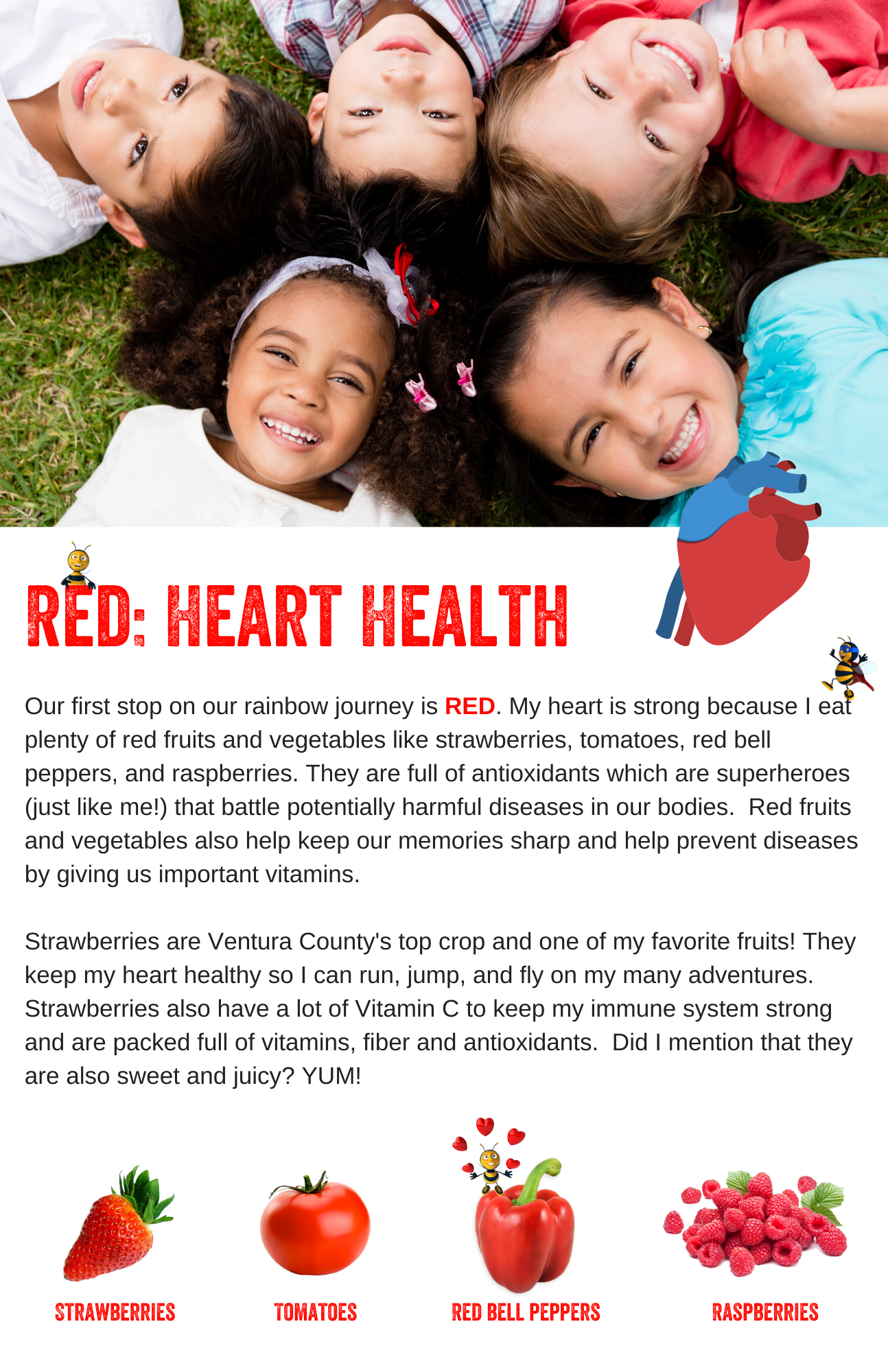 ---
IDENTIFYING HEALTHY SNACKS
     Food label activities and yummy recipes! 
All Grade Levels
Standards covered: 1.7.N    
Understanding what we put in our bodies is extremely important! Learning how to read and compare food labels is an fun way to teach your child about the healthy, and not-so-healthy, ingredients that are in the processed foods we eat. The following printable activity will help you explore the food in your home, and empower your little one(s) to make healthier and informed decisions about the food they want to eat. 
Background information on how to explain food label ingredients to kids 
Comparing Food Labels Worksheet (English)
Comparing Food Labels Worksheet (Spanish) 
Parents while you are at home, come up with premade snack options your kids can pull out of the fridge on their own and help themselves too. Don't get them the temptation to go for the chips and cookies. Here are a few suggestions and recipes: 
The Produce Moms recipe ideas: This is a great website for all things kid and food related!
Nut Butter Protein Balls: This is an easy five ingredient snack you can make with your kids and then store in the freezer or fridge and they can take one out whenever they get hungry! 
---
LET'S BUILD A HEALTHY COMMUNITY 
     Support others in making positive food and physical activity choices! 
All Grade Levels
Standards covered: 8.1.N    
Have your child write a letter about their garden, healthy snack choices, or favorite ways to be active and mail it to a friend. Encourage them to talk about what they've been doing while they've been at home and have them encourage each other to eat healthy snacks or participate in outdoor activities. Create Healthy Hero pen pals and help create a healthy community! 
Fun ways to send letters:
---
LET'S CREATE HEALTHY HABITS!
     Links, resources, activities, and interesting articles
Cal Fresh Flyer
Ventura County Farmers Market Locations
Dignity Health: St. John's Regional Food Pantry Informational Flyer (English)
Dignity Health: St. John's Regional Food Pantry Informational Flyer (Spanish)
STEAM CAREERS IN AG AT HOME
S.T.E.M. IN AGRICULTURE RELATED ARTICLES, VIDEOS, AND CAREER OPPORTUNITIES
WHAT'S NEW IN THE WORLD OF FOOD AND FARMING?
     Junior High and High School Resources and STEM News 
The American Farm Bureau Foundation for Agriculture has a myriad of educator resources for students, with many resources available specifically for 6-12th grade students. Check out their website to explore their free resources such as lesson plans, articles and videos. Here are a few of our favorite finds this week:
Let's start a garden together!
We are all in this together, and your story can inspire those in your community to try something new. Share a picture starting a garden at your home and continue to share your progress over the next few months. Tag your posts with #letsgrowagarden2020 to encourage those around you, and together we will grow!
Students for Eco-Education and Agriculture (SEEAG)
501(c)3 Nonprofit Organization
Students for Eco-Education and Agriculture (SEEAG)
---
Get Citizensjournal.us Headlines free  SUBSCRIPTION. Keep us publishing – DONATE