BY SKYE SHERMAN
Aspen, Vail, Jackson Hole … Mammoth Lakes? The California mountain town may not have the exalted reputation of other ski meccas, but it's just as popular among the jet set.
Celebrities from Tony Hawk to George Clooney, the Kardashians, and Will Ferrell are regulars; Kate Hudson, Nick and Joe Jonas, Sophie Turner, Selena Gomez, Gwen Stefani, and many other household names have been spotted visiting. Beyond its powdery slopes, Mammoth Lakes appeals probably because, at five hours by car, it's just the right distance from Hollywood to offer both discretion and convenience.
The vibe of the town, which sits at about 7,800 feet above sea level, is understated yet elevated; laid-back yet with lots on offer.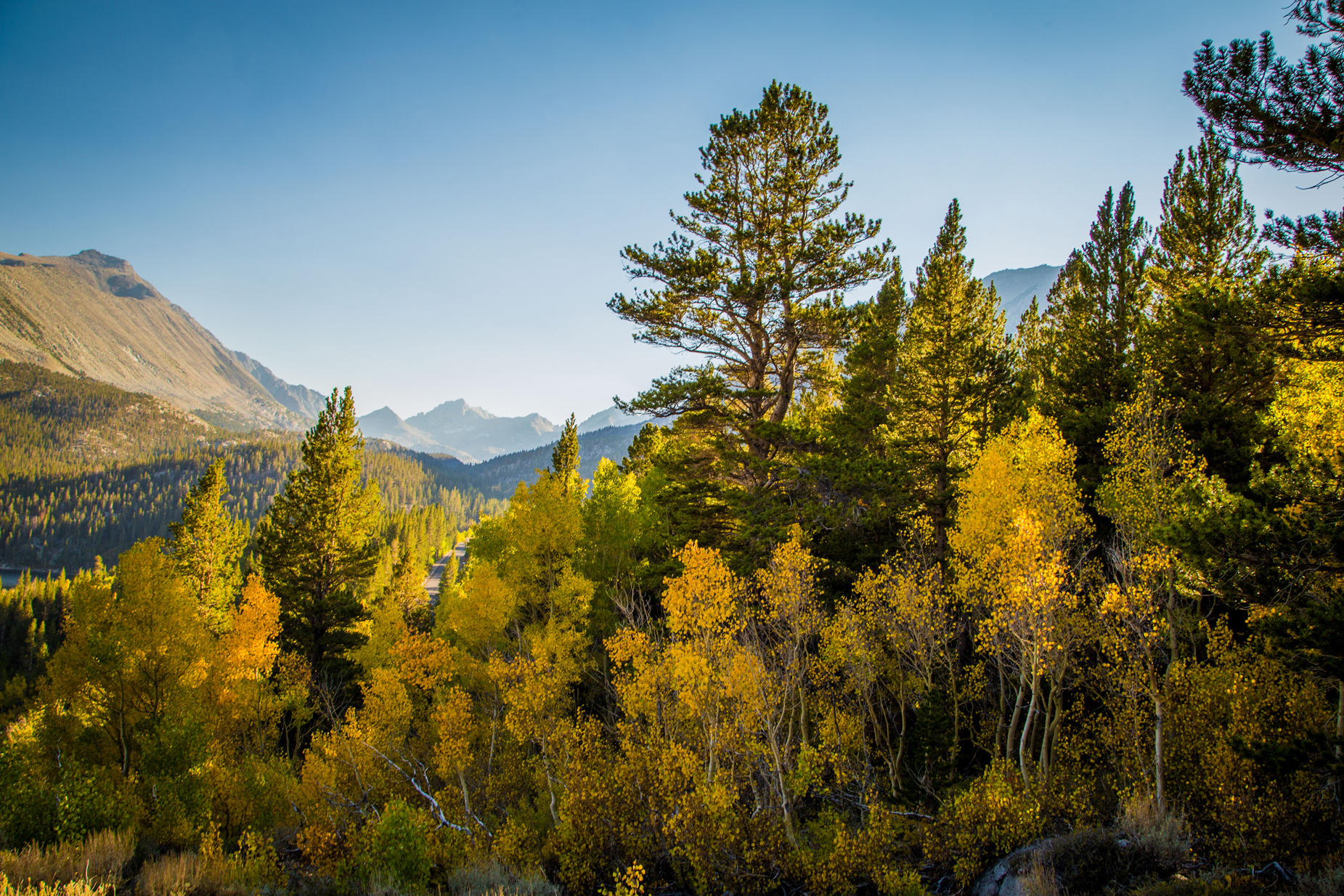 Fall colors. (Josh Wray/Courtesy of Mammoth Lakes Tourism)
A-lister or not, you'll feel right at home with a room at the cozy Sierra Nevada Resort. The hotel has a charming rustic lodge ambiance but with all the comforting trappings of modernity, like in-room gas fireplaces, heated bathroom floors, waterfall showers, kitchenettes, and more. There's also a spa, pool, mini-golf course, and ski and snowboard rental on the property. Plus the presence of three onsite restaurants, including Greek seafood spot Jimmy's Taverna, means you don't have to venture far for a gourmet meal, though the resort is conveniently located to make much of town easily walkable.
It's an ideal winter destination, but Mammoth Lakes isn't all about the snow: the city offers tons of activities for all seasons. Still, you might be surprised by how many activities you can do almost year-round: we visited during the summer and were amazed to find that because of the high peak of Mammoth Mountain—elevation 11,053 feet—as well as the previous winter's heavier-than-normal snowfall, skiing and snowboarding were still on the table—yes, even in mid-July when the weather in the valley was hot enough to give me a memorable sunburn on our first (and likely last) fly-fishing adventure. 
Fly Fishing
I say last because I think I'll leave fly-fishing to the professionals and enthusiasts. Mammoth Lakes is a fly fisher's bucket-list destination, but for the rest of us, the sport is significantly more challenging than you'd expect—and that's coming from a Florida girl who grew up trolling the deep blue waters of the Atlantic. I quickly learned that while I may be able to reel in a bull dolphin without breaking a sweat, if I needed to snag us a trout from Hot Creek for the dinner table, we'd go hungry.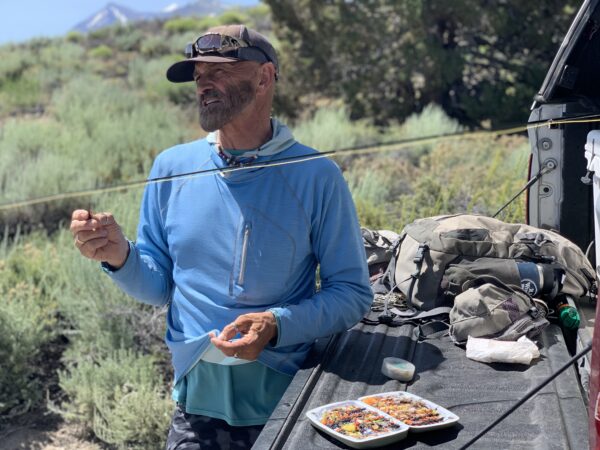 Fly fishing guide Scott Flint. (Skye Sherman)
Between learning to properly cast and the delicate flick required to hook a rainbow, brown, or brook trout—and keep it on the line—I did a whole lot more fishing (and baking in the sun) than catching that day. 
Our guide, Scott Flint, had the patience of a saint as he straightened my lines, un-snagged my fly, and watched me almost-but-not-quite hook a handful of fish that would have been easy catches for him. (My husband, a natural at everything, eventually grew bored of all the fish he was reeling in.) Before heading to the river, we met Scott at The Troutfitter to purchase our one-day fishing licenses then filled up on pancakes and breakfast burritos at the down-home diner-style Breakfast Club, located a few doors down, while we waited for the paperwork to be complete.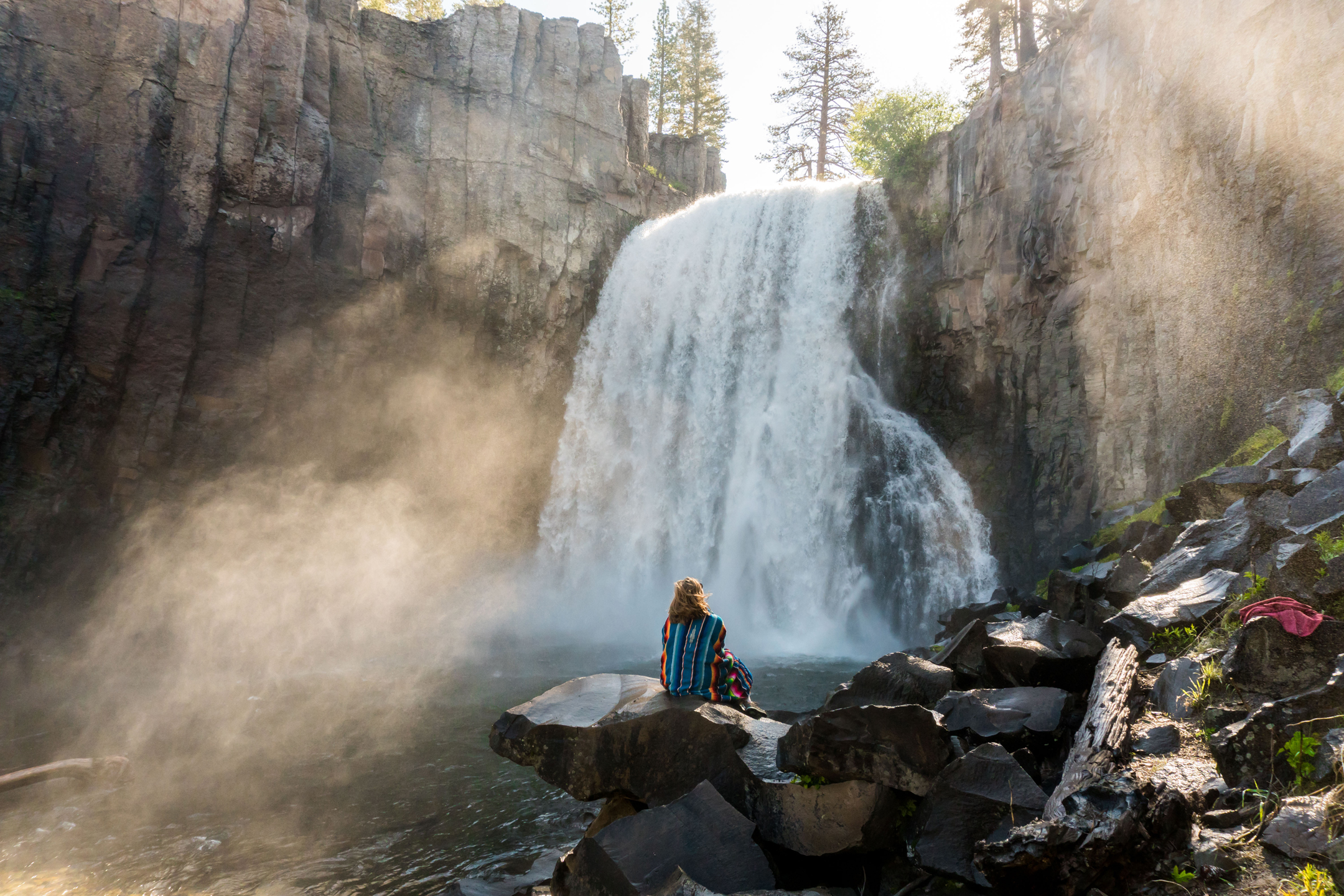 The Rainbow Falls. (Josh Wray/Courtesy of Mammoth Lakes Tourism)
Outdoor Activities
Luckily, there's a lot of alternatives to fly fishing in Mammoth Lakes. In the spring, its fields fill with colorful wildflowers; in the summer, visitors come to hike, bike, backpack, kayak, sightsee, and more.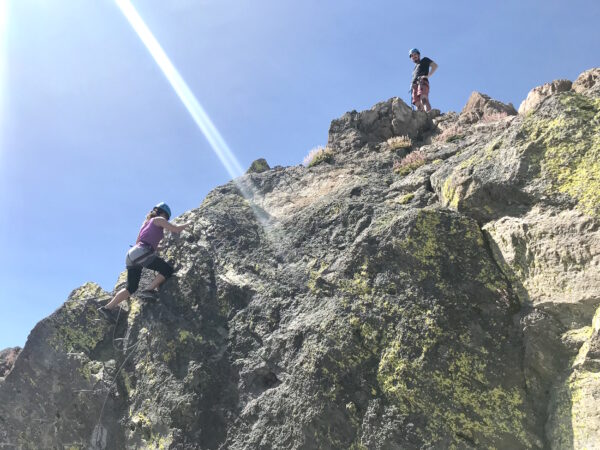 Climbing the Via Ferrata. (Skye Sherman)
You can also explore the Lakes Basin, rent an e-bike from Footloose Sports—Mammoth Bike Park is the only bike park on United States Forest Service land to allow full e-bike access—check out the Earthquake Fault in Inyo National Forest, zoom down the soon-to-open Mammoth Mega Zip, hike to the 101-foot-tall Rainbow Falls, or head to Mammoth Mountain, where activities range from scenic gondola rides to the Via Ferrata, a guided climbing wall open to all levels, even those with no previous rock-climbing experience.
For a change of scenery (not that you'll want one), plan an evening at Mammoth Rock 'n' Bowl, where you can bowl, golf, then head upstairs to Mammoth Rock Brasserie for fine food with a view.
Fueling Up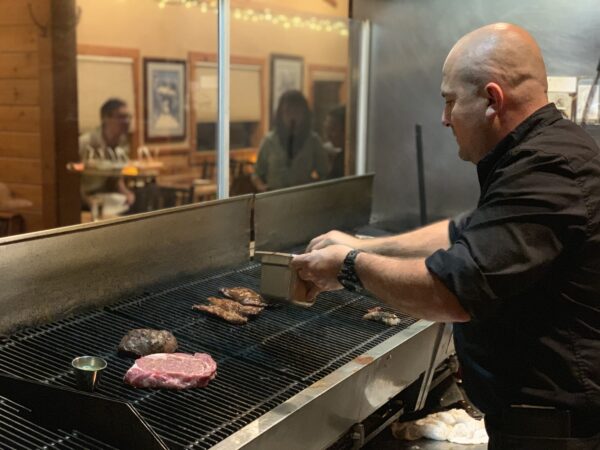 At The Mogul, your server is also your chef. (Skye Sherman)
All the calorie-burning options in Mammoth Lakes leave a mighty hunger to refuel. No matter what time of year you visit, don't leave Mammoth Lakes without a meal at The Mogul Restaurant. Dining in this family-friendly, cabin-style setting is a long-standing Mammoth Lakes tradition, unique not just for its menu of mouth-watering steaks and prime rib, but also because your server is your chef. In the early days of Mogul, patrons cooked their own food on charbroilers in the dining room; today, the waitstaff has taken over the grilling in your place, but you still get to observe the action if you sit in the back dining room where the grill is a central feature.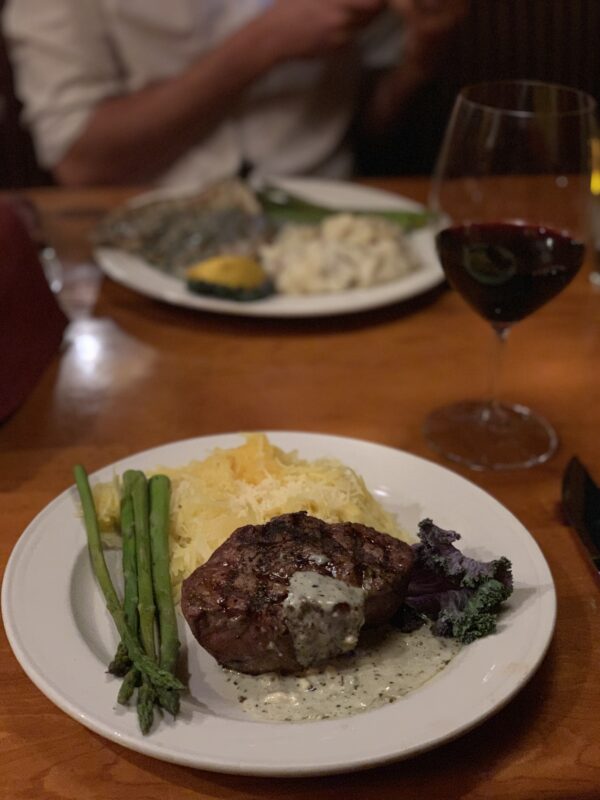 A memorable dinner at The Mogul. (Skye Sherman)
Mogul's savory menu will be tempting after a long day exploring, but be sure to save room for dessert: indulging in a cinnamon charlotte—a white cupcake topped with vanilla ice cream and hot cinnamon sauce—is a non-negotiable. There's a reason it's been a house specialty since the restaurant's debut in 1971.
While dinner at Mogul is memorable, breakfast is the most important meal of the day, especially when you have adventure on the itinerary. Plan mornings at Looney Bean Coffee, Black Velvet Coffee, and Good Life Café, family-owned and -operated since 1994; by lunch, you can satisfy a craving for Mexican and margaritas at Roberto's Cafe or head to Bleu Market and Kitchen. (I still dream about the gourmet sandwich I had for lunch here—sliced-to-order turkey with French brie, mustard, and blackberry walnut jam tucked between two delectable slices of freshly baked fig and walnut bread.)
Across town, you'll find that specific sort of healthy-hearty meal endemic to alpine environs—fuel guaranteed to keep you energized through all the adventure that awaits in Mammoth Lakes.
Skye Sherman is a freelance travel writer based in West Palm Beach, Fla. She covers news, transit, and international destinations for a variety of outlets. You can follow her adventures on Instagram and Twitter @skyesherman
Republished with Permission The Epoch Times    SUBSCRIBE
---
Get Citizensjournal.us Headlines free  SUBSCRIPTION. Keep us publishing – DONATE