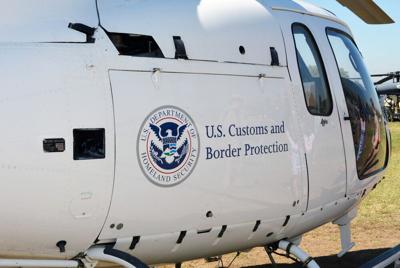 (The Center Square) – Border Patrol agents in the Swanton Sector, which includes all of Vermont, in the first three months of fiscal 2023 apprehended more foreign nationals entering the country illegally than they did in the past two fiscal years combined, its sector chief, Robert Garcia said this week.
The sector leads the northern border in illicit border crossings, whose agents continue to see a record number of foreign nationals illegally entering upstate New York, Vermont and New Hampshire after flying to Canada from at least 19 countries.
From Oct. 1 to Dec. 31, 2022, Swanton Sector agents saw a 743% increase in apprehensions and encounters compared to the same period last year, Garcia said. Combined apprehensions and encounters in the first three months of fiscal 2023 have already surpassed those of the entire fiscal 2022.
In December, Border Patrol agents apprehended more people than ever before, 441, according to data obtained by The Center Square from a Border Patrol agent. Agents also reported 14 who turned back to Canada and 135 who evaded capture and entered the U.S. illegally. Law enforcement doesn't know who or where they are.
Posting pictures on social media of families entering the U.S. illegally in subfreezing temperatures, Garcia said was "Reckless endangerment: In freezing temperatures over uncertain terrain, families with children, from just a few months old, continue to illegally cross from Canada into the U.S. The risk to human lives – including Border Patrol agents –is increasing." He also said their activity is "illegal and irresponsible."
Garcia noted that as more people illegally enter, more agents are being assaulted. The "ripple effect of increased illicit border crossings," he says, was nine assaults from July to November last year after having zero assaults for 27 straight months.
In one recent case, a Mexican national who flew to Canada to enter the U.S. illegally in the Swanton Sector pleaded guilty to "unlawfully entering the United States and assaulting and resisting a federal agent," the U.S. Attorney's Office for the Northern District of New York reported. The 28-year-old man faces one year in prison, a fine of up to $100,000, and a term of supervised release of up to 1 year when he's sentenced in May. This follows previous arrests of alleged human traffickers in the sector.
As crime continues, so does the danger associated with harsh winter temperatures. This time of year, the sector sustains sub-freezing temperatures that can extend for months. Bordering Canada, its international boundary includes rural and remote areas, with topography ranging from mountains to lowland swamps and frozen terrain. "Unpredictable storm fronts bring ice and significant snow accumulation throughout the extended winter season," Customs and Border Protection reports, making "traversing unfamiliar territory perilous."
Swanton Sector agents continue to encounter family groups with children, including those only a few months old, who are crossing in single-digit (Fahrenheit) temperatures, CBP says.
In many cases, Border Patrol agents are "tasked with detecting, identifying, and apprehending individuals attempting to unlawfully cross the border, end up rescuing them and rendering potentially life-saving aid."
"Swanton Sector's greatest concern in carrying out our mission of border security is the preservation of life – the lives of community residents we are sworn to protect, the lives of our Border Patrol Agents carrying out the mission day-in and day-out in the field, and the lives of the individuals, families, and children we are charged with apprehending as they attempt to circumvent legal processes for entry," Garcia said.
"Unfortunately, the transnational criminal organizations that stand to profit from the increased flow of human traffic care only about profits and have no concern for the welfare of those whose plight they seek to exploit for financial gain."
Garcia also encourages residents of northeastern New York, Vermont, and New Hampshire to report suspicious activity to 1-800-689-3362. He says their help is invaluable and greatly appreciated.
---
TELL YOUR FRIENDS ABOUT CITIZENS JOURNAL  Help keep us publishing –PLEASE DONATE